A romantic thriller with "...enough sometimes-bloody action and intense suspense to please the most demanding thriller addict."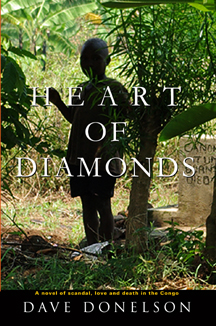 "An absolutely brilliant must-read book. Dave Donelson captures the essence of the Congo's challenges. His Heart Of Diamonds is the modern corollary to Joseph Conrad's Heart of Darkness. Dave breaks the silence about the conflict in the Congo and firmly stands with the Congolese people in their quest for peace, justice, and human dignity."
--Kambale Musavuli, National Spokesperson, Friends of the Congo.
Covering the endless civil war in the Congo seems like the perfect way for television journalist Valerie Grey to escape the tangles of her personal life. But complications arise—most of them red-hot dangerous—when she stumbles onto a diamond smuggling scheme that begins in the Congo and leads to the White House.
In a plot-driving twist, the diamonds come from a mine owned by American televangelist Gary Peterson, who smuggles them inside nkisi, traditional figures like voodoo dolls, in a scheme to cheat his partner in the mine, Congolese President Moshe Messime. Valerie Gray learns that an aide to U.S. President Billy Baker is involved, news that casts an ugly, profit-driven light on an impending U.S. military action in the war-ravaged country. As Valerie closes in on the truth, each of these powerful men—the preacher, the politician, and the dictator—unleash their personal dogs of war to keep her from revealing their bloody secrets.

Valerie relies on her own wits, courage, and grit to survive their savage pursuit through the horrific war-torn landscape of the Congo. Caught between her pursuers and brutal warring factions fighting for control of the diamond-rich region, Valerie canoes down crocodile- infested rivers, dodges assassins in attack helicopters, and races over bone-rattling roads to bring her shocking story to the outside world.

A love triangle both enriches the adventure and lays the groundwork for tragedy, as Valerie struggles to understand her conflicting feelings for companion David Powell, the über journalist who helped shape her fabulous career, and Dr. Jaime Talon, who selflessly runs a struggling clinic near the mine. The chaos of civil war forms the perfect backdrop for Valerie's despair in the soul-shattering climax.
written by Dave Donelson ISBN 978-1-44991-992-4
read a sample of HEART OF DIAMONDS

Inside Heart of Diamonds - Wuyi Jacobs interviews Dave Donelson on
WBAI-FM's AfroBeat Radio
Why Congo Matters - hear Dave Donelson's address to the 18th Annual Westchester Library System Book & Author Luncheon.
See the video of Dave's full remarks as part of his Congo Speaking Tour.
To learn more about life in the Congo, listen to Dave Donelson's discussion
with a class in Developmental Economics at St. John's University.